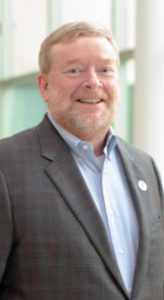 Welcome
Dear friends of the MSU Innovation Center,
As we reflect upon 2021 in our Annual Report, I am compelled to say, it's been a year like no other, and it has raised my appreciation of MSU as an organization built on dedication and perseverance. I am proud of the MSU Innovation Center, and it's been a privilege to work with a team of individuals who are committed to staying Spartan strong, aligning with MSU's core values of Collaboration, Equity, Excellence, Integrity and Respect. As we move into 2022, I am optimistic we will carry great momentum into the "new normal" and deliver value to Michigan and the world.
MSU President Samuel L. Stanley Jr., M.D. recently released the university's strategic plan:
"MSU 2030: Empowering Excellence, Advancing Equity and Expanding Impact" – a plan that puts people first, prioritizing the success of students, staff and faculty.
A piece of that report — "Discovery, Creativity and Innovation for Excellence and Global Impact" – speaks directly to the mission of the Innovation Center. Quoting the strategic plan: "MSU scientists, scholars and artists pursue excellence in service to the common good as they generate new knowledge and apply it in practical ways to address complex societal problems. They look for answers to fundamental questions that lay the groundwork for solutions to problems decades in the future. They also study our histories and cultures to assure new knowledge is informed by our collective and unique experiences as part of the larger society."
It is from this engine of creativity that the Innovation Center derives the substrate for partnerships, innovations and economic opportunities. We align ourselves to the objective to "Invest in research to advance partnerships that increase economic development and opportunity in our region and beyond and that helps understand, shape and improve the future of work and the workforce." We look forward to working with our partners to achieve this goal.
Developing corporate partnerships is one of the three core activities of the Innovation center. In the past year, we helped forge a new partnership with Toyota that facilitated mentoring relationships between women students of engineering and Toyota engineers. You can read more about that story here, as well as another longstanding auto-industry relationship – the MSU Ford Alliance Partnership, which has led to more than 100 successful projects to date.
The strengths of our other organizational pillars — startups and entrepreneurship, and tech transfer and commercialization — are highlighted here through several stories including the collaborative launch of Great Lakes Crystal Technologies, as well as the release of Plunder Panic, MSU's first video game to hit the marketplace. And I can't forget to mention our rising students. You can learn more about the scholarships we've awarded to support entrepreneurial success, including one to Brendan Wang, who has been busy working to put an end to the vaping epidemic.
2021 was also a big year for MSU partnerships in health care, and the Innovation Center partnered with our medical colleges to help move it all forward. Noted examples include BAMF Health in the new Doug Meijer Medical Innovation Building in Grand Rapids, opening in late 2021, and a master research relationship with Perrigo, with new international headquarters now under construction on the Grand Rapids research campus. Across the state in Detroit, MSU announced a new 30-year partnership with Henry Ford Health System, creating a locus of collaborative research and innovation aimed at improving health outcomes.
Thank you for taking time to view the 2021 MSU IC Annual Report. I hope you enjoy reading the stories as much as we love sharing them.
Stay well, and please stay in touch.

Charles A. Hasemann, PhD
Assistant Vice President for Innovation and Economic Development