Entrepreneurship seemed to be in the cards for Brendan Wang. Wang started his first business as a senior in high school. Boka Bands sold goal-oriented bracelets that kept short-term and long-term goals tucked into pockets within the bracelet, keeping them close to the wearer. Joining Michigan State University (MSU) as a first-year student, Wang was immediately impressed with the entrepreneurial ecosystem available at MSU. "I have this entire community before me, with access to interns for help, receive funding, along with competition opportunities and exposure, especially with introductions to our alumni network, which has been quite helpful," said Wang.
Attending his first start-up event, Wang recalled, "I was aware of the Hatch and aware of the entrepreneurial resources, but it was really my first Burgess New Venture Challenge that I attended as a freshman, where I saw all of these young founders with their new products, their ideas, their banners … and I just felt so incredibly inspired."
In April 2022, Wang was also among the student exhibitors at the MSU Innovation Center's Innovation Celebration. As a result, he could network and showcase his product to the MSU community and industry leaders. "It was really meaningful to be in a space with people who have created such impactful technologies and innovations," he said.
Inspiration based on personal experience combats a global problem
Wang was inspired by his personal experience as a former vape user. He recounted, "At 14, I began vaping and was addicted for over five years. I've lived it, I've breathed it, and I've seen it time and time again across my own communities." Wang wanted to create a product to help people beat their nicotine addictions and lead healthier lives. According to the World Health Organization (WHO), there are 1.3 billion tobacco users across the globe. In addition, the WHO estimates that more than 7 million tobacco users die yearly due to the consequences of tobacco use.
Wang's idea was innovative and had a potentially global impact. After several venture pitches and 3D-printed prototypes, he went on to 'create' a patent-pending, flavored, pressurized air inhaler that mimics a traditional vape pen, but with zero smoke, zero nicotine, and zero charge: the CAPNOS Zero.
With assistance and resources at the MSU Innovation Center and the Burgess Institute for Entrepreneurship and Innovation, CAPNOS Zero is now being sold to users globally, both online and in stores.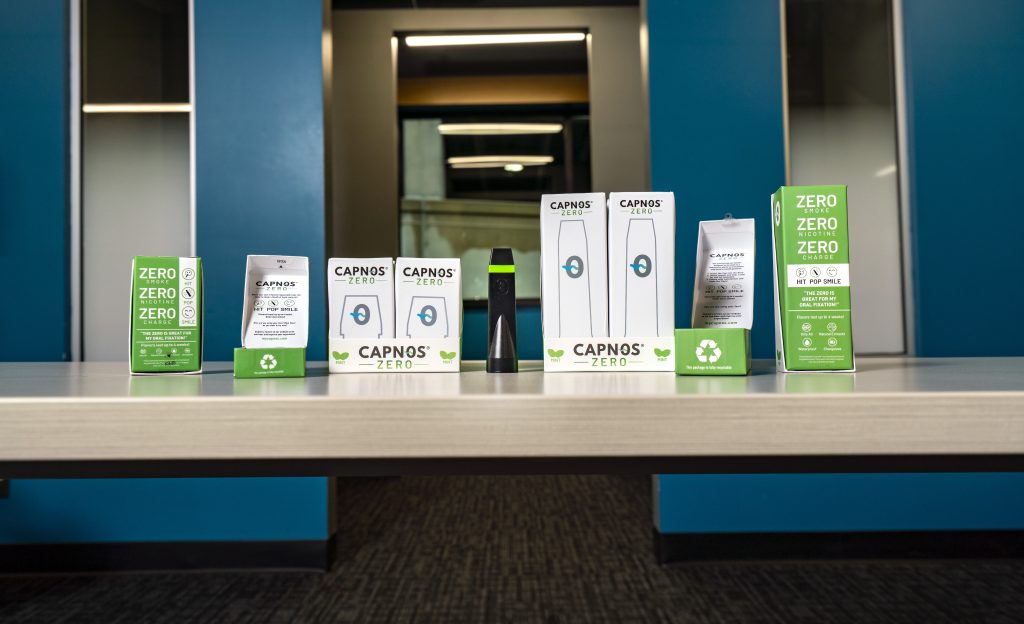 From MSU startup to a global company
In 2021, when asked about his hopes for the future of CAPNOS, Wang said, "The primary vision that I have for CAPNOS is to see that we can become a global company. Seeing CAPNOS in obscure places in Europe or Asia, building more products, building our service line to combine tech with the physical aspect are all the major initiatives that I would like to see for CAPNOS over the next five years."
Now, in 2022, Wang is seeing his vision as a reality. "We have seen our number of people using CAPNOS products across the world increase month over month. Right now, we've delivered 19,000 products this year to people all over", Wang stated.
To meet the increasing demand of a global customer base, CAPNOS has continued to grow its employees. "We have three full-time and fifteen contractors across Nigeria, in Bosnia, as well as folks in Florida. We have an entire team in Bangladesh and the Philippines," said Wang.
While CAPNOS focused on its direct-to- consumer sales, it partnered with other smoking cessation programs worldwide. For example, in May 2022, CAPNOS partnered with Wellness Aids Services of Flint to support clients trying to quit vaping. In addition, they intend to establish further partnerships with national and global tobacco quitting programs and advocacy groups to help people manage their behavioral cravings to quit successfully.
The future of CAPNOS
"So, we've recognized that, for one, smoking cessation is a market that's valued at over $58 billion in 2025. The tobacco smoking market is valued at over $1 trillion just on its own," Wang said. With a growing level of support through receiving endorsements from quit therapists, doctors, and clinicians, Wang prepares to, in his words, "invite an open conversation into improving an industry in need of innovation by tackling one of the leading causes of death through a behavioral approach."
Many CAPNOS consumers have reached out about their success with the CAPNOS Zero product.
"We have hundreds of customers who have written letters or shared DMs, talking about how they've gone weeks and months without relapsing," Wang said. "There are people who have gone decades smoking and vaping, but finally, after trying everything out there, they found success with CAPNOS… which is so rewarding to hear."
In a market that appears ripe for innovation, Wang is optimistic about the future of CAPNOS. "For us to become a brand leader in the space and helping the 1 billion smokers in the world, we've got to stay focused. We're definitely very focused on a cessation-first approach, and we're just excited to continue innovating."
"I was aware of the hatch and aware of the entrepreneurial resources, but it Was really my first burgess new venture challenge that I attended…Where I saw all of these young founders with their new products, their ideas, their banners…And I just felt so incredibly inspired."