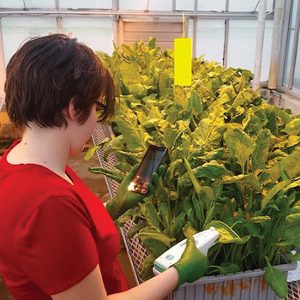 PhotosynQ allows plant researchers to collect data on plant health in the field, where it matters most.
PhotosynQ is an MSU Innovation Center startup that gives researchers, educators, farmers and more the ability to collect and discuss photosynthesis data. Their handheld device, the MultispeQ, is a fluorometer, chlorophyll meter and bench-top spectrometer all in one. Researchers can use it to take field measurements, which are collected and saved in the PhotosynQ network on their mobile or desktop applications.
With nearly 5,000 users around the world, PhotosynQ offers a large network for researchers to view, map, share and analyze collaborative research.
Dr. David M. Kramer, Hannah distinguished professor in photosynthesis and bioenergetics at MSU, founded the startup, which launched in July 2018.
MSU Technologies, Michigan State University's technology transfer and commercialization office, worked with Spartan Innovations and Red Cedar Ventures to help the PhotosynQ team with the company's formation, launch and scale-up.
MSUT also negotiated the license agreement with the startup and moved the license agreement through the standard process with the MSU Board of Trustees.
To learn more about PhotosynQ, visit their website: https://photosynq.org/