Excitement and conversation filled the room as a record attendance of more than 400 people gathered at Spartan Stadium on April 18 to celebrate faculty and students showcasing technologies and startups developed in campus labs and classrooms.
The MSU Innovation Celebration, hosted annually by the MSU Innovation Center, honored four faculty members and one student during an awards ceremony where MSU Acting President Satish Udpa provided opening remarks.
"It truly takes a village, indeed a network of networks, to most effectively nurture innovation," Udpa said. "If you don't have that, you won't be able to do anything. That's what the Innovation Center does day in and day out here on this campus."
The following faculty researchers were recognized during the award ceremony:
Ramakrishna Mukkamala – Innovation of the Year: smartphone-based blood pressure monitoring
Amy Iezzoni – Innovator of the Year: cherry rootstock development
Marcos Dantus – Technology Transfer Achievement Award: ultrafast lasers
David Douches – Corporate Connector of the Year: MSU potato breeding and genetics program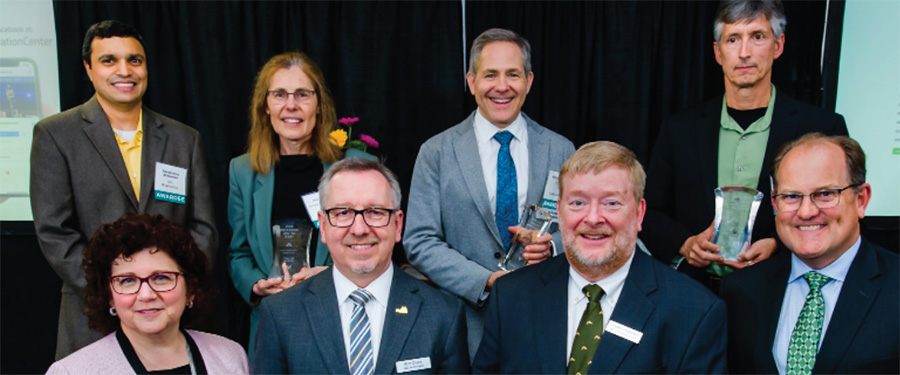 Brianna Makaric, founder and CEO of BRITE bites and Future Founders Fellow, received the 2019 MSU Student Entrepreneur of the Year award.
Currently a junior at MSU, Makaric founded BRITE bites in February 2018 with the goal of changing the way people think about snacks. Since then, BRITE bites has seen incredible growth, part of which Makaric attributes to the MSU Innovation Center.
"The MSU Innovation Center has been extremely valuable," Makaric said. "The amount of support and mentorship I've received from them is what has propelled me so far in my journey. I feel extremely lucky to be a part of this entrepreneurship ecosystem."
Acting president Udpa said he is proud of the work underway at MSU and of this year's award recipients.
"They are talented. They are motivated. They are forward-thinking innovators who are deeply engaged in finding solutions to real-world problems," he said. "After all, that was what our founders wanted 160 years ago."
In addition to the awardees, several faculty researchers and startup companies set up exhibits at the event. This year also included 25 student startups from the MSU Hatch startup incubator, a program that offers free services, support and funding to MSU students.
"This event gives us the chance to celebrate the great work done by faculty and students striving to move their ideas into the marketplace where they will have a chance to have their greatest impact," said Charles Hasemann, assistant vice president for Innovation & Economic Development at the MSU Innovation Center. "We do it every year to highlight the dynamic pipeline of opportunities at MSU… Business moves fast, so we've got to keep our ideas flowing every year."