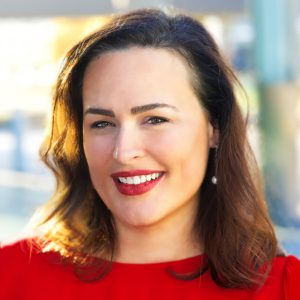 NPR's second annual "How I Built This" Summit with Guy Raz recently announced its 2019 fellows, including Michigan State University alumna Erin Rose.
In 2016, Rose created Every Two Minutes, a comprehensive application that addresses all issues of sexual violence with a mobile interface to help better engage college students.
Rose was selected as a part of the 2018 Conquer Accelerator program before transitioning over as a portfolio company of Red Cedar Ventures.
"Being accepted as one of the 2019 summit fellows is an honor," said Rose, founder and CEO of Every Two Minutes. "I have listened to 'How I Built This' with Guy Raz since it launched in 2016, and it is surreal to think about being in the same room with Guy and many other entrepreneurs."
This year's How I Built This cohort of fellows formed a professional support network at the summit held at San Francisco's Yerba Buena Center for the Arts in October. The How I Built This Fellowship seeks to discover, empower and elevate promising entrepreneurs with innovative business ideas, perseverance and grit.
About Every Two Minutes
The Ann Arbor-based startup Every Two Minutes creates technology to combat gender-based violence. Its first product, MySideKick, is a comprehensive, trauma-informed web-based application that addresses all issues of sexual violence, with a mobile interface to better engage college students — speaking directly to digital natives in their own language. Every Two Minutes discovered four reasons sexual violence is not properly being addressed on college campuses and created seven powerful components to address and remedy these issues. MySideKick's technology is the future of prevention programming on college campuses.
About Conquer Accelerator
Based in East Lansing, Conquer Accelerator provides selected teams with 10 weeks of intensive programming, focusing on completing tailored, goal-driven benchmarks. Teams work with instructors and mentors on topics such as fundraising, technology, and longevity. Selected teams receive a $20K investment and work through the intensive program. In addition to the monetary investment, Conquer Accelerator teams are provided with one-on-one mentorship and support, a creative working space, and resources to enable them to grow their companies. Conquer Accelerator is a collaborative effort at Michigan State University and is made possible through generous partnerships with MSU Foundation, Spartan Innovations, the MSU Innovation Center and MSUFCU.