By Tracy Henion
Grand Rapids is Michigan's second largest city with a population of more than 200,000 and about a million in the metro area. Located on the banks of the Grand River that winds its way through the vibrant downtown, there's an abundance of entrepreneurs, researchers and investors in the region.
About 75 miles to the east, the Red Cedar River runs through Michigan State University and serves as a tributary to the Grand, systematically connecting the two cities.
With its fast-growing presence in the bustling Grand Rapids area, the MSU Innovation Center has become a powerful current – a connecting point between the university's entrepreneurial and research resources and the startups that are helping stimulate Michigan's economy.
Progressive programs and a strong collaboration with the MSU Foundation and its subsidiaries is also sparking entrepreneurship in the region and throughout the state.
"West Michigan already has an appreciation for the great work that is completed from MSU's agriculture resources, medical school and medical research facilities," said Kevin McCurren, commercialization program director for the Innovation Center. "I want to make west Michigan aware of the many resources that rest of the university has to share."
As the Innovation Center's full-time Grand Rapids resident, McCurren has over 25 years of corporate and entrepreneurial experience. He has an office inside the Grand Rapids Research Center where he regularly engages with MSU researchers focused on advancing the university's efforts in improving human health.
"We enjoy working with startup companies because they are what is changing Michigan and the world," he said. "They are also job creators. The majority of new jobs are created by companies less than 10 years old. We also enjoy connecting existing corporations and new startups to the many resources at MSU and the MSU Foundation, and ultimately helping MSU research find a way to serve the world."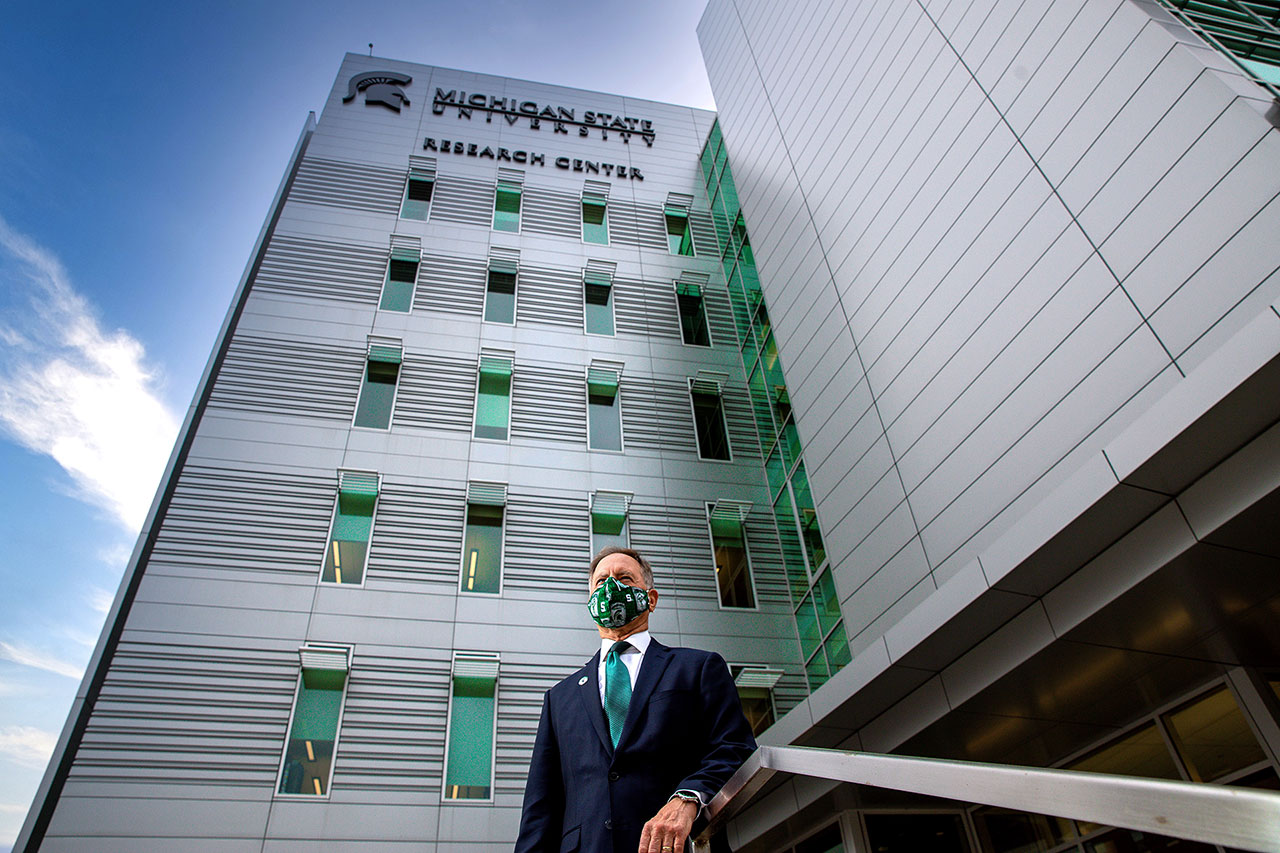 Many roles, collaborative purpose
McCurren has two distinct roles for MSU in west Michigan. Half of his time is devoted to MSU Business Connect, where he works to pair the region's businesses to the research and talent assets of MSU.
For the other half, he serves as the director of Gateway Grand Rapids. In conjunction with the City of Grand Rapids and its Local District Financing Authority, Gateway is funded by the Michigan Strategic Fund and managed by the Michigan Economic Development Corporation (MEDC) Entrepreneurship and Innovation division.
The Gateway program consults with early stage entrepreneurs and helps develop capital plans. Through his work, McCurren connects corporations and organizations with MSU resources in East Lansing.
Gateway helps bridge early stage companies with MEDC programs. One major initiative McCurren oversees is managing $150,000 in grants to help support nine early-stage, high-tech, high-growth companies. The Business Accelerator grants are supported through MEDC's Small Business Development Center.
In the past 10 months, McCurren and his team have also helped 56 Grand Rapids-based early-stage companies by developing strategies, creating or refining business plans and acquiring funds. Through this work, engagement between MSU and corporations and organizations in Grand Rapids has increased markedly.
Building with MSU Foundation and its subsidiaries
The recent Grand Rapids and Red Cedar Ventures Virtual Pitch event featured a dozen companies trying to raise initial or seed funds. Red Cedar Ventures is a subsidiary of the MSU Foundation and one of the few and most active pre-seed funds in Michigan.
"Our organizations held a virtual pitch event for startups to engage with angel groups and institutional investors in Michigan," McCurren explained. "Many were new to the early stage investors. The objective was to introduce companies to investors with the goal of identifying funding options and put them on the radar as companies to watch."
Participating companies ranged from one that created an app utilizing augmented reality for construction sites to a cybersecurity platform that uses artificial intelligence to address cybersecurity needs.
McCurren also collaborates with the Spartan Innovations' Conquer Accelerator program that helps growing companies overcome challenges, providing $20,000 in funding, and 10 weeks of hands-on mentorship and training. Part of the MSU Innovation Center, Spartan Innovations is the venture creation arm of the MSU Foundation.
The East Lansing-based Conquer program has successfully run for five years and recently launched its first-ever Grand Rapids 2020 cohort consisting of teams: Airway Innovations, Building Catalyst, FirstIgnite, Lawnbot, and The Patient Company. In addition, the over 25 companies not selected to the Conquer Accelerator are receiving some support and follow up from the Small Business Development Center, Gateway Grand Rapids and Spartan Innovations.
"Conquer Accelerator helps entrepreneurs successfully build and launch a viable company," said Thomas Stewart, Conquer Accelerator program manager. "I think the Grand Rapids cohort is a great representation of the talent in the region and I'm looking forward to helping push these businesses to the next level."
Conquer Accelerator also launched its first internship program, Conquer Accelerator Diversity in Entrepreneurship (CADE), the first such program for Spartan Innovations. Frank Urban, director of Venture Creation for Spartan Innovations, noted the program aims to increase diversity within the entrepreneurial community by hiring young professionals from various ethnicities and backgrounds to collaborate with selected teams.
"The CADE program is a step towards increasing diversity and inclusion in the entrepreneurial ecosystem," Urban said. "We're very excited to launch this effort."
Opportunities to collaborate with the MSU Foundation and its subsidiaries of Red Cedar Ventures, Spartan Innovations and the recent new Pre-Seed Fund Michigan Rise are valuable to the expansion of MSU support in Grand Rapids.
"With the Conquer Accelerator program now in place in Grand Rapids, the shared offices of all these entities in the MSU Research Center, and the programing, funding and teams of these entities, this will contribute to a lot of momentum in Grand Rapids to help grow entrepreneurship in the coming years," said Jeff Wesley, executive director of Michigan Rise, Red Cedar Ventures and Spartan Innovations.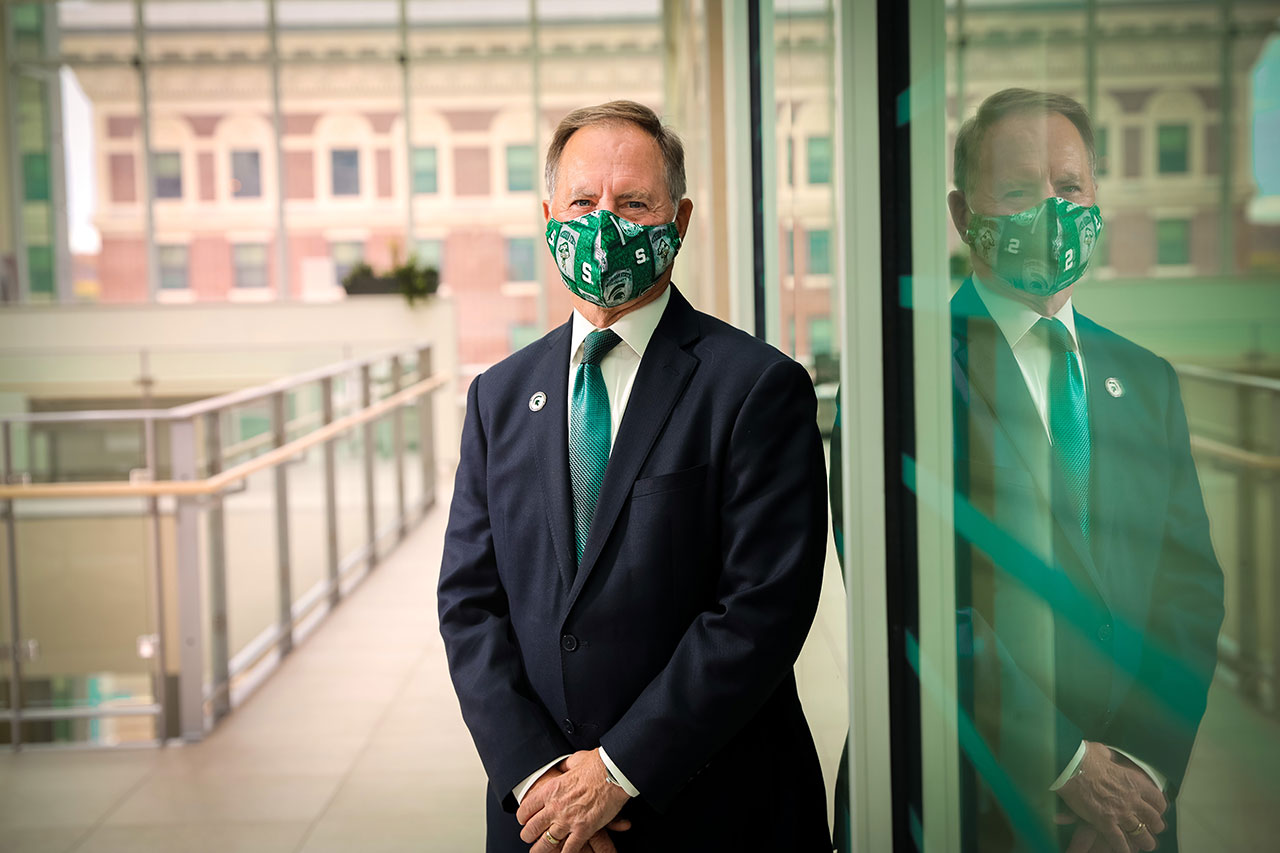 Opportunities on the horizon
With the opening of the Doug Meijer Medical Innovation Center (DMMIC) in fall 2021, there will be even more opportunity for MSU's impact in west Michigan.
The Innovation Center has been a strong supporter of the developing collaboration between Bold Advanced Medical Future (BAMF) Health and MSU. As the anchor tenant in the DMMIC, BAMF will be collaborating with MSU faculty and medical doctors to create and deliver life-changing diagnostics and therapies.
The DMMIC also will serve as an incubator for innovation-based companies, where McCurren further hopes to place some of the early-stage companies he works with or that spin out of MSU research.
Strong partners build momentum
McCurren is even working with some companies outside the west Michigan region. Anne Lanc, who recently launched the startup Ionburst, a cybersecurity company based in Edinburgh, Scotland, said McCurren has propelled efforts on many fronts.
He helped initiate website security testing with developers and introduced Lanc and her staff to community members in greater Grand Rapids and beyond.
Lanc is the former international treasury director of BlackRock, one of the world's largest financial planning institutions. She left that role to head up Ionburst's push in the United States.
"I believe we have a solution that can make a real difference in the world by making data privacy a human right," Lanc said. "I'm passionate about protecting people… It horrifies me to read recent reports of the first time a patient's death was directly linked to a data breach a hospital had suffered, or a new type of malware that can alter CT scans to fake tumors."
Lanc said her company chose Michigan as its North American base because of the state's advanced reputation for cybersecurity support and growth. "We are committed to Michigan and our business development director has been a resident in Michigan for the last 20 years. As we grow, we will create skilled jobs to develop Ionburst to meet client needs."
Strong partners like McCurren along with the MEDC help build speed, Lanc added.
"We're still at the beginning of our journey. It took a leap of faith to move from a well-respected role to an unknown startup," she said. "But it's exciting to change the world."Chase Bonhag, CEO of FirstIgnite, said McCurren has been with the Traverse City-based company from nearly the beginning — participating in meetings, giving introductions, offering advice and even attending presentations in Kalamazoo and Traverse City.
Over the last several years, FirstIgnite has built artificial intelligence-powered business development tools to transform scientific research into revenue.
"We help universities and corporations monetize the research and intellectual property they have invested in, but haven't commercialized," Bonhag explained. "Many solutions to the world's biggest problems have been invented, but not commercialized, and we're helping solve this problem."
Bonhag said working with McCurren has led to success after success. "We've actually received a customer and an investor thanks to the introductions he made," Bonhag said. "More importantly, he's helped us learn to talk about our business in a way that is more collaborative with our customers rather than focused so much on the industry problem."
Kelsey Boersma, project manager with the Center for Research & Innovation for the Mary Free Bed Rehabilitation Hospital, said McCurren helped her find funding options to support a patient trial for a rehabilitative crutch. He also explained intellectual property guidelines and set up a technology office at the Grand Rapids hospital.
"He's connected us with innovators in the community who may have an idea that could positively impact the populations we serve," Boersma said. "Kevin has been instrumental in sharing resources and connections with us to grow our tech transfer capabilities. His insights and experience make a positive impact in and around the West Michigan community."