By Tracy Henion and Kara Headley
Dr. Laura McCabe has a better solution than drinking milk to get strong bones.
McCabe, a professor in the Department of Physiology at Michigan State University, studies the effects of probiotics in patients with osteoporosis, or bone loss. Probiotics are live microorganisms administered to a patient in a specific amount to benefit overall health.
Recently, with the help of the MSU Innovation Center, BioGaia — a Swedish healthcare company — McCabe, and Robert Britton, former associate professor in MSU's Microbiology and Molecular Genetics department, patented the use of a probiotic as a preventative measure against the development of osteoporosis.
BioGaia sells the probiotic as part of its lineup of dietary supplements, and it's now purchased by people around the world.
Fifty-four million Americans have low bone density or osteoporosis, according to the National Osteoporosis Foundation. About one in two women and up to one in four men over the age of 50 will break a bone due to osteoporosis. The disease causes an estimated two million broken bones every year.
This first-ever Surgeon General's Report on bone health and osteoporosis (2004) illustrates the large burden that bone disease places on our nation.
"Osteoporosis, fractures, and other chronic diseases no longer should be thought of as an inevitable part of growing old. By focusing on prevention and lifestyle changes, including physical activity and nutrition, as well as early diagnosis and appropriate treatment, Americans can avoid much of the damaging impact of bone disease and other chronic diseases," the report states.
This is all still very relevant information and understanding the nutritional element of probiotics supporting healthy bones is key, McCabe added.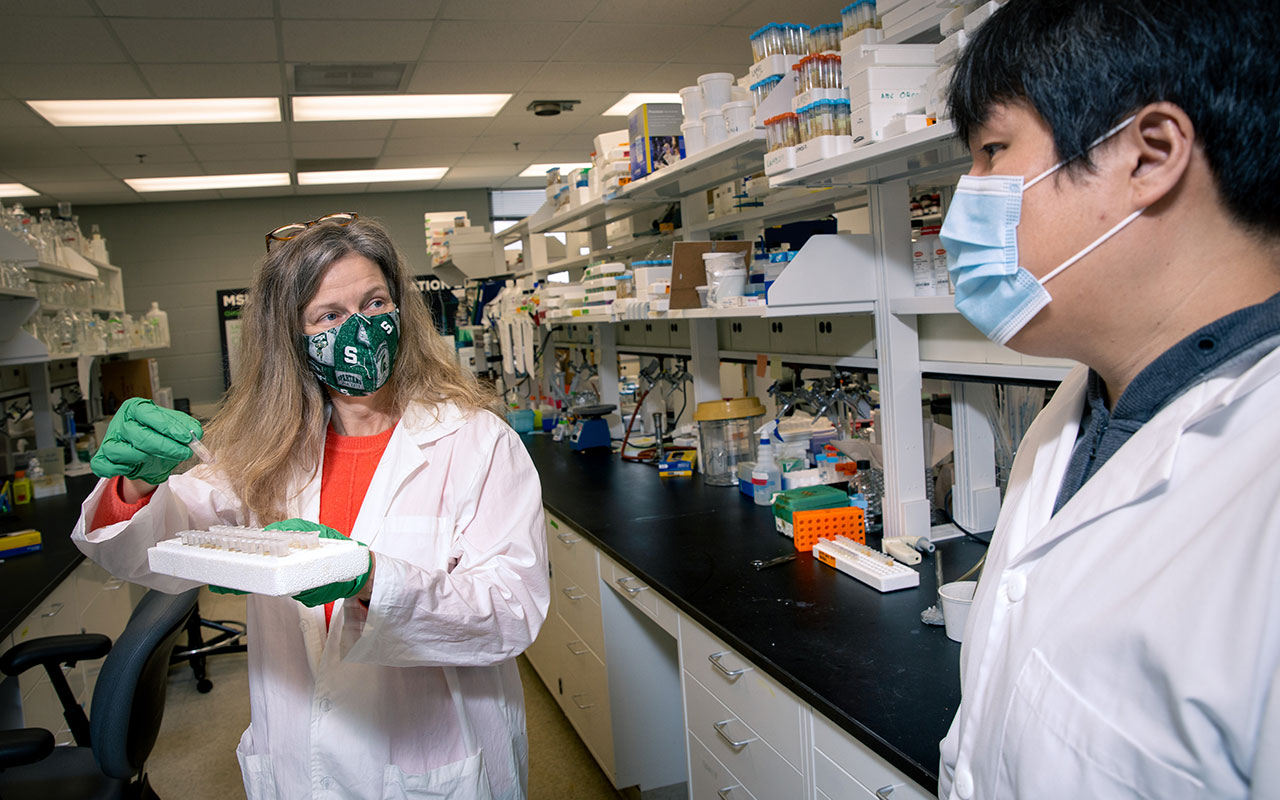 Probiotics benefit bone health
McCabe began her research at MSU by looking at how bad bacteria in the intestine caused inflammation and ultimately osteoporosis. She hypothesized that the opposite could be true – good bacteria could help prevent osteoporosis. Her research focuses on a particular strain of bacteria: Lactobacillus reuteri (L.reuteri).
"Our lab team has shown over and over again that probiotics benefit bone health and can prevent bone loss under a variety of conditions including menopause, Type 1 Diabetes and following antibiotic treatment," McCabe explained.
McCabe's research focuses on how individual organs communicate their function and health to one another as well as their responses to these signals.
"Understanding who is talking to who and what the language is could be the key to identifying very novel, simple and effective ways to treat disease," McCabe said.
In animal models, she identified microbiota, or microbes within the body, and communications between the gut and the bones that play an important role in the regulation of bone health. Recent studies have confirmed this effect in humans.
"Preventing bone loss is important because low bone density is a risk factor for bone breaks," McCabe said. "Despite the many medications available, the number of patients with osteoporosis and its associated fractures is increasing. Our lab's goal is to help the body build bone, prevent bone loss and decrease bone breaks in patients."
Connecting with the MSU Innovation Center
The MSU Innovation Center helped McCabe in several steps along the path of this success.  Early on, with the assistance of the Innovation Center's Business Connect team, BioGaia sponsored research in the McCabe and Britton laboratories that demonstrated the potential utility of these probiotics.
As the results emerged, the MSU Technologies team memorialized the research in an invention disclosure, working with legal counsel to protect the intellectual property in a patent, and eventually negotiated the terms of the license agreement that provided BioGaia with the exclusive rights to sell the product.
All of this came to fruition from McCabe and Britton's foundational work on these probiotics. McCabe worked closely with Anne Di Sante, associate director of MSU Technologies and Charles Hasemann, assistant vice president for Innovation and Economic Development.
Hasemann recalled working on a series of contracts with BioGaia over a four-year period totaling $550,000 that supported the research on campus.
"This is a great example of how the Innovation Center is meant to work; we help MSU faculty and students form the partnerships, and have the resources it takes to translate their research discoveries into products and services that make our lives better," Hasemann said. "We offer advice and business expertise, alongside a world-class network of corporations, entrepreneurs, and investors – all in one place."
It's helpful and important to have someone who can manage some of the business aspects and offer advice and information, McCabe said. "The Innovation Center is critical for assisting faculty with the next step of moving their research to next level."
Di Sante said she would describe the efforts of the Innovation Center staff to be those of a "catalyst."
"We increase the rate of the reaction, that is, moving the research accomplishments of MSU faculty more rapidly towards commercialization, so the benefits of the technology impact the public," Di Sante added. "Working closely with Dr. McCabe, we were able to translate the development status of the technology into meaningful requirements of our licensee to ensure commercialization did not lag. This project is an example of the positive outcomes of an open and collaborative relationship between a faculty member and a tech transfer professional."McCabe said she feels fortunate to have such a valuable resource on campus with dedicated staff who helped bring her research to the market.
"I am so lucky to work with so many great colleagues at MSU who make research fun," she said. "How can I not get excited about the idea of our lab's research having an impact on how we think about clinically treating and preventing low bone density."
Di Sante agreed and said the work was fulfilling.
"We had fun, too."