By Tracy Henion
In a move that could help solidify Michigan's place as a global leader in autonomous vehicles and other areas of mobility, the MSU Innovation Center is leading an initiative to connect the university's mobility researchers to technology companies across the country.
The drive to create new partnerships advances Michigan State University's success in the mobility field. MSU's accomplishments include a long-term collaboration with Ford on more than 50 mobility research projects, a partnership with the Gotcha electric scooter company and an ongoing transformation of MSU's East Lansing campus into a living laboratory to test emerging technologies for new mobility systems.
The MSU Innovation Center had a key role in those projects and is well positioned to create more partnerships that yield impactful research and results.
"Over the years, the MSU Innovation Center has become a one-stop shop for industry to be able to tap the enormous talent we have on campus," said Satish Udpa, former MSU interim president and former dean of engineering.
Centered on MSU strengths
Facilitating connections with industry is a priority for Brice Nelson, senior director of corporate partnerships at Business Connect, a unit housed under the Innovation Center's umbrella. Nelson serves as MSU's front door for corporations, directing businesses to the right MSU resources.
Nelson, and newly hired analyst Keith Rouse II, are spearheading the charge to create partnerships centered around MSU's strengths in the technical and social research areas of mobility, along with leveraging a large campus that can function as a living laboratory for mobility research.
"The research behind mobility covers a broad range of technology from autonomous cars, to smarter infrastructure, to assistive robotics," Nelson explained. "MSU faculty working in these areas have made profound contributions. My hope is that we can expand the number of partnerships we have with companies in this space and find value in utilizing these overlapping strengths."
Rouse has been instrumental in identifying companies that match MSU's research expertise, while developing a systematic approach to engaging with them.
"We hired Keith as a prospecting and strategy specialist in March 2020, and in a short time he has made considerable progress," Nelson added. "One of our focuses is connecting with companies in the autonomous vehicle arena. There are well over 500 companies working on different aspects of hardware, software, applications and analytics. Keith's research has enabled us to better identify which companies are working in areas that match our strengths."

Partnerships key for progress
Udpa, who has now returned to his love of research in the College of Engineering, also serves as director of mobility for MSU. Udpa praised Nelson's ability to promote partnerships that help the university grow its mobility footprint and stressed the importance of continued efforts.
"For the first time in possibly a hundred years, Michigan has an opportunity to reassert its global leadership in all things automotive, Udpa said. "Autonomous vehicles will have an impact on just about every area of business, not just in transportation, but in insurance, hospitality, civil infrastructure, infant to elder care and education – the list is long, but the challenge is exciting."
Udpa was recently appointed by Michigan Gov. Gretchen Whitmer to the Michigan Council on Future Mobility and Electrification. The 10-member council will work to ensure Michigan continues to be a world leader of innovation and growth in the mobility sector.
In terms of mobility research, MSU has an advantage given the strong commitment to technological research, as well as historical ties with the automotive industry in the state of Michigan.
For example, MSU's partnership with Ford, a contract Nelson helped forge, has supported research involving sensors, lightweight materials, autonomous technology and mobility. Since 2014, Ford and MSU have partnered on more than 50 research projects regarding mobility.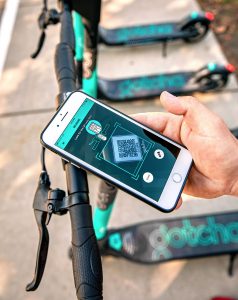 More than just autonomous vehicles 
MSU also is committed to mobility research outside of the automotive industry and is looking to revolutionize all forms of automated mobility. Last fall, the university partnered with Gotcha, an electric scooter company that unleashed 300 e-scooters for use on campus.
In return, MSU has used the scooters as a "testbed" for human-centric mobility in a newer but increasingly more popular form of automated transportation. The data returned to Gotcha helped improve overall safety of the e-scooters as well as provided new information on this emerging preferred mode of transportation.
MSU's partnership with Gotcha demonstrates what collaboration opportunities can arise from building relationships between leading companies and campus partners.
In addition to serving as a practical alternative travel option to students and faculty, Gotcha is funding research focused on attitudes about e-scooters and is working with engineering students and MSU's Resource Center for People with Disabilities to enable visually impaired individuals an enhanced mechanism of navigating parked e-scooters.
"We have had discussions with several other companies that offer mobility platforms and smart infrastructures with various applications," Nelson added. "MSU has a great opportunity to be on the cutting edge of providing safe and efficient micro-mobility options. We have the base to continue our process of implementing and inventing technology that leverages our campus infrastructure to enable the coexistence of pedestrians, bicyclists, e-scooters, cars and buses."
Looking ahead to 'mobility solutions'
Currently, MSU is researching how to transform campus into an "advanced mobility ecosystem" that would allow mobility researchers to test emerging technologies for new mobility solutions. Those include 5G data transmission, solutions for "first mile/last mile" transportation and validation of technologies for automated and connected vehicle systems.
"At Michigan State University, we are aggressively moving forward to prepare ourselves to help Michigan retain its leadership in the mobility sector, be it in the area of technology, civil infrastructure, social science, business, communications or law," Udpa said.
Nelson said he has always been interested in understanding how things work. His passion for mobility research and development is a natural fit with his position at MSU.
"We have amazing faculty who are working on some very exciting projects and I get to ask them the how and why questions about their work," Nelson said. "I also get to interact with future thinkers at companies to learn about what they would like their next iteration of products or services to include. Matching a particular MSU expertise to a challenge a company is facing is the ideal outcome.  My role at MSU is to help companies find this value and to help work through the details to enable the work to go forward."
Rouse shares a similar enthusiasm for the work ahead.
"I've always been interested to hear about some of the amazing advances that come out of the university," he said. "As part of the team at MSU Business Connect, I'm most excited to be working to help support and facilitate future advances."
MSU Innovation Center key for connections
Udpa added that the Innovation Center is an essential resource for advancing research and ultimately the mission of the university.
"It is often very difficult for faculty members to connect with industry and find people who may have an interest in what the faculty member could offer," Udpa said. "The MSU Innovation Center plays a key role in facilitating these connections."
This work extends beyond MSU's campus. The State of Michigan views industry-university collaborations, and innovation that such partnerships foster, a key to economic growth and vitality, Udpa added.
"Industry and university partnerships are vitally important for advancing the state and nation's interests in a highly competitive world," Udpa added. "Fortunately for MSU, the Innovation Center's rolodex has grown significantly in recent years to the benefit of the university and industry alike."