Michigan State University has entered into an exclusive partnership with Gotcha to provide scooters for use by students, faculty and staff. The program will include approximately 300 e-scooters at 40 hubs throughout campus.
As part of the agreement, Gotcha will provide MSU mobility researchers with data, collected anonymously, that fits with the university's larger mission to leverage its campus as a testbed to drive the future of human-centric mobility.
"E-scooters are a relatively new, yet increasingly popular mode of transportation, particularly for students. To accommodate this, we considered two things: rider safety and data sharing," said Wolfgang Bauer, associate vice president for administrative services and university distinguished professor. "We are confident in Gotcha's approach to encouraging rider safety. Plus, the available real-time data has endless opportunities to advance mobility research."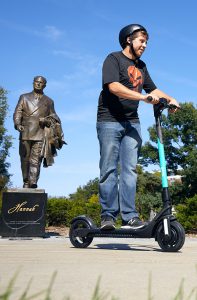 The e-scooter data will provide insight on how this emerging technology fits into the larger transportation picture by giving researchers the opportunity to:
Analyze traffic density to ensure better management, especially during busy time periods, such as athletic events.
Develop technology solutions to encourage good social behavior, from safe driving practices to alleviating accessibility hazards such as the issue of e-scooters being left in the middle of sidewalks or blocking stairs.
Analyze how, when and why e-scooters are used.
Develop sensors to predict mechanical failure in batteries, tires, bearings and joints to enable proactive maintenance.
Explore the sociological impact of mobility related transportation.
"We're excited to bring a micro-transit solution to MSU's campus for students to commute to class and around town," said Sean Flood, CEO and founder of Gotcha. "Gotcha's e-scooters are a great way to connect students to the city in a safe, affordable and environmentally friendly way."
With offices in California, Georgia and South Carolina, Gotcha has 10 years of experience in the micro-transit industry. Today, the company has partnerships to provide mobility assets in more than 50 cities and universities across the country, including new relationships in East Lansing and Lansing.