In a move to strengthen the journey among female engineering students, Toyota has partnered with Michigan State University on a mentorship program that builds upon its already strong ties to MSU's Society of Women Engineers.
Toyota has a long history of supporting K-12 mentorship and STEM programs, but this is the first of its kind at the university level. As everyday technologies advance through autonomous, electric, connected and mobility vehicles and systems, the timing is spot on.
"Toyota believes we can support the students' knowledge of these technical areas as well as our personal experiences in the real world," said Randy Stephens, a group vice president of Product Performance Engineering. "We hope to see students empowered by their collaboration with us."
Not only is the partnership beneficial for students, but for Toyota's future as they gain information and prepare for a new generation of engineers. It's also an opportunity for all involved to launch a program with endless possibilities for expansion.
Given that it is the first year for the program, leaders wanted to start small, with 15 junior and senior engineering students participating. Each mentor was uniquely assigned to a mentee by using information provided based on personalities and interests.
Toyota mentors meet virtually with students at least once a month to discuss career options, challenges and skillsets while providing advice on how to present ideas to grow in the industry.
MSU's engineering students learned about the program through their advisor, Judith Cordes.
Cordes was motivated by the idea of this program for two reasons. One, she and other advisors are always searching for ways to build on student involvement. "We know from our mentoring program, as well as many studies, that mentoring is a key component for continued success," Cordes said.
Secondly, they were excited to start a program with corporate partners. Unlike other projects, this one has the ability to impact both MSU students and Toyota engineers.
That partnership was solidified by Brice Nelson of the MSU Innovation Center. As director of corporate partnerships, this kind of work is at the heart of Nelson's role with Business Connect, a unit of the Innovation Center focused on corporate engagement.
"This is a great example of a corporate partner working with MSU to create a mutually beneficial program," Nelson said. "The structured mentorship of this critical talent pipeline could very well position Spartan women to have a significant impact on the mobility industry for years to come."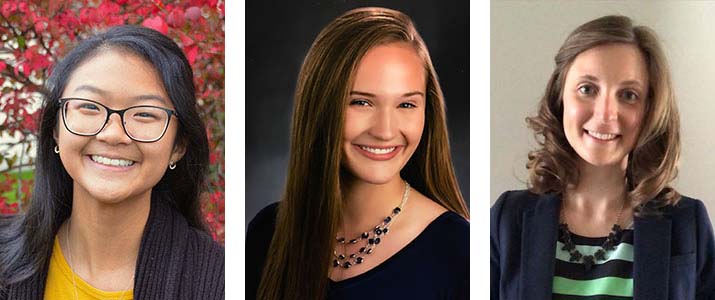 , both seniors at MSU, are notable examples of the type of students this program was designed to assist. Having taken on several leadership roles in their academic careers, they were motivated to find yet another way to progress as female engineers.
Both Lam and Woelke are involved with MSU's chapter of the Society of Women Engineers, a non-profit educational service organization composed of science and engineering students and graduate engineers who work to recruit, support and retain women in the engineering profession.
"I am always looking for ways to improve myself professionally and as a student, so I thought this was a good way to get out of my comfort zone and seek some extra help," Lam said.
Woelke agreed, and said she finds value in connecting with a mentor to discuss career options, professional development opportunities and day-to-day functions of being an engineer.
"We all have so much to learn from one another," she said. "I'm just really grateful to be in a program like this."
Lam has learned to take her mentor's experiences and mold them into a way where she can apply them to her own life. "My goals for this mentorship are to really work on being a better leader and communicator, and that encompasses building my confidence as well," she said.
Her mentor, Emily Khouphongsy, an MSU College of Engineering 2008 alumna, served as president of the Society of Women Engineers while a student at MSU. For the past decade, she has been a professional advisor to the group, and is proud to give back to the university by sharing her passion for mentoring.
"I believe we all face challenges as we learn and grow in all areas of life," Khouphongsy said. "Part of the personal value of life's challenges is then the opportunity we have to help others as they navigate the same things."