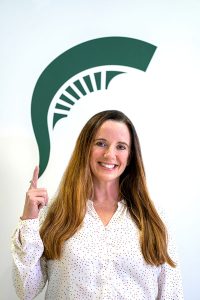 Dear friends of the MSU Innovation Center,
As I reflect on 2021, the many challenges brought on by the pandemic are quick to fill my mind. But I'd rather focus on the good, like when the announcement came mid-summer that we could finally safely return to campus.
I always park far from my office, to not only get in my daily run or walk, but to take in the beauty of campus, collect my thoughts or plan the day ahead. I change up my path often. There are so many corners of this university to learn.
It's equally peaceful on my way home. I can debrief for a few minutes alone, take in whatever newness I find in the bountiful landscapes around me, and on some days, even hear the rush of water from the Red Cedar. Sometimes it feels like it's just me and this big campus…I have a lot of ground to cover, and I feel lucky to be here.
Telling the stories of research, entrepreneurship and innovation happening behind the scenes of this beautiful university is inspiring. Reporting for our 2021 annual report, I had the opportunity to interview one student who has developed a product to help end the deadly vaping epidemic, another who is thriving professionally in the Toyota-Engineering Mentorship Program, and many faculty and researchers working diligently to advance their technologies toward commercialization.
As the communications director for the MSU Innovation Center, I am honored to work with such passionate Spartans every day. This year alone, we had 120 new inventions disclosed, and 37 patents issued. This is among $20.9 million in corporate support for research projects and $4 million in royalties from licenses. Most royalties tie directly back to departments and labs to continue to fund research, student scholarships and other MSU programs.
In addition to this report, you can find more of our stories in the MSU IC Newsroom or sign up for our bi-monthly e-news to stay up to date with what we're working on next.
See you around campus.
Go Green!

Tracy Henion
Communications Director
MSU Innovation Center