Playing a video game typically involves a clear path to success.
But for the people creating the game, the path to getting it to market can be much more ambiguous.
The creation of Plunder Panic — the first game to hit the market from Michigan State's Game Design and Development Program — gained traction in part by the infrastructure and guidance through ties between the College of Communication Arts and Sciences, the MSU Innovation Center and the MSU Foundation.
Plunder Panic, an arcade game for up to 12 players that features battling pirate crews, is available on Steam and will be released on all major consoles in early 2022. The development of the game is a treasure map of sorts that could guide future MSU students to internship and employment opportunities while bolstering the already sterling reputation of MSU's GameDev program.
GameDev at MSU ranks first in the nation for game design and development programs within public universities, according to The Princeton Review. Worldwide, MSU's game design and development program also ranks seventh among undergraduate programs and 12th among graduate programs.
How the MSU Innovation Center helped build a gaming studio
Brian Copple, a technology manager with the Innovation Center, said the groundwork for Plunder Panic came about when he met with Brian Winn, director of MSU's Games for Entertainment and Learning Lab (GEL) in 2018. They identified that while the GEL Lab and the College of Communication Arts and Sciences provided teaching on a nationally recognized level, a next step for moving promising games to market was missing. Copple then invited Frank Urban, a venture creation director with Spartan Innovations — the startups arm of the Innovation Center — to collaborate in the path forward.
"One of the deficiencies we identified was that there was no clear path to commercializing gaming concepts coming out of the university," Copple said. "We wanted to explore the potential to spinout a startup company from MSU that could commercially develop gaming concepts originating from MSU while also giving our students opportunities for internships and potentially their first job after graduation before trying to garner employment with one of the large game development companies."
The commercialization project started by hiring a gaming consultant to dig into the gaming industry and look at how the top gaming institutions in the country were commercializing games that were under development. A commercialization plan was finalized after a number of pivots based upon market research and available support, and Will Winn Games Inc., now an East Lansing-based video game studio, was born.
Matt Rudd, an Entrepreneur in Residence (EIR) with Spartan Innovations, was assigned to the company because of his years of entrepreneurial startup experience in the Michigan ecosystem. The company launched with a $20,000 investment from Red Cedar Ventures, a wholly owned subsidiary of the MSU Foundation, in November of 2020, and then another follow on investment of $20,000 was awarded in the spring of 2021.
The company continued down its path to commercialization developing its product, establishing its team and expanding its Board of Directors. Jeff Wesley, executive director of Spartan Innovations and Red Cedar Ventures, now serves on the Board. With the continued positive traction, Will Winn Games raised $262,000, which included another $25,000 follow on investment from Red Cedar, bringing the total investment to $65,000. Urban and Brad Fingland from the Spartan Innovations team met monthly with the Will Winn team, helping to successfully commercialize this new startup.
"The Spartan Innovations and Red Cedar Ventures teams saw this company progress and continue to achieve milestones on its path to commercialization," Wesley said. "It is a great team of leaders to partner with… We have not only supported them in best practices, but experienced great leadership from the Entrepreneur-in-Residence and now CEO Matt Rudd. Early support also came to this company from the Business Accelerator Fund, supported by the Michigan Economic Development Corporation and the Lansing Area Economic Partnership."
During the game development stage of Plunder Panic, Copple helped Winn's team secure $5,000 from the MSU Copyright Development Fund (CDF) to attend the 2018 PAX EAST SHOWCASE, which allowed real players to review and critique the game. Player feedback was overwhelmingly positive as Plunder Panic was featured in the PAX EAST INDIE MEGA BOOTH. Following the conference, Copple was able to secure an additional $25,000 tranche from the CDF to cover the software development costs required to implement the new features identified at PAX EAST.
"The College of Communication Arts and Sciences has also made a significant investment in the development of Plunder Panic," Copple said. "The creation of the gaming kiosk on the main floor of the Communication Arts & Sciences building, highlighting Plunder Panic and other games from the MSU Game Development Program, was a significant investment."
Collaboration 'is critical'
The MSU Innovation Center, Spartan Innovations, Red Cedar Venturesthe MSU Foundation, the College of Communication Arts and Sciences, and the GEL lab, all worked together to lay the foundation for Will Winn Games.
Rudd, now CEO for Will Winn Games, said that while in the planning phase for licensing and commercializing Plunder Panic, the studio pivoted to create Plunder Panic as a fully online game during the COVID-19 pandemic. Although, as an East Lansing based studio it is our long term goal serve as an incubator for the GameDev graduates.
Rudd credited the full collaboration of all the teams involved for finalizing the business model and objectives for Will Winn Games. The plan went beyond bottom-line revenue and conceptualized how the company could positively impact gaming commercialization for MSU, enhance student learning experiences and craft the next generation of game developers.
"Collaboration is critical to finding products and technology coming out of MSU that is commercially viable," he said.
Copple said it took three and a half years to get Plunder Panic from concept to license and commercialization. The fact that the game was developed, and a new company was created in-house with MSU's host of resources, was an impressive accomplishment considering that the process takes about 18 to 24 months for an established gaming company, Copple added.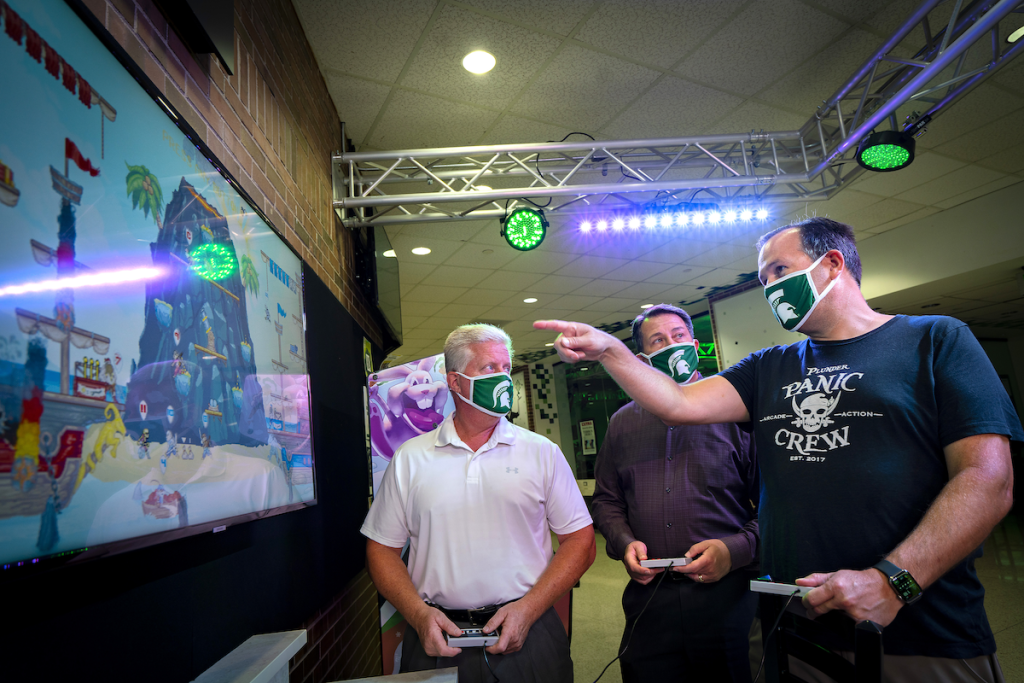 Plunder Panic's playing style evokes after-school multi-player gaming sessions with a group of friends. The game started out with a local multiplayer concept but has shifted toward online play.
"Many of us have fond memories of these times, spending too many hours gaming, laughing and having fun together in-person," said Will Jeffery, co-lead designer and executive producer, who puts the 'Will' in Will Winn Games. "Plunder Panic embodies those feelings and is a ton of fun to enjoy together."
Jeffery partnered with Winn back in 2017, while Winn served as the director of the GEL Lab. Jeffery has since left MSU to pursue a career at Disney Imagineering and Full Sail University in Florida. Within Will Winn Games, Winn took on the role of studio director and president while Jeffery now serves executive producer and project manager.
"The launch of Will Winn Games has given us an opportunity to reunite and work together to see our Plunder Panic baby grow to adulthood and be released out in the world," Winn said.
What's next?
As Plunder Panic prepares to make a splash in the gaming world, it does so as a trailblazer for aspiring MSU students who now have the advantage of having a gaming studio close to home.
"I definitely believe that new games will be on the horizon now that MSU has a transparent, clear pathway to commercialization," Copple said.
And that could be sooner rather than later with the startup's recent move into the MSU Foundation's VanCamp Incubator space in East Lansing. Winn said the growing team is excited to begin working on the next set of games.
"Success for me would be growing Will Winn Games into a stable, vibrant studio that develops a strong track record of quality game titles that are successful in the marketplace, all while building a dynamic team of game developers, fostering a best-in-class corporate culture, enhancing MSU's top-ranked GameDev program, and helping to expand the Michigan video game industry."