2020
ANNUAL REPORT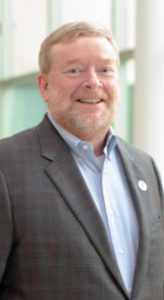 Welcome
Dear friends of the MSU Innovation Center,
We hope our 2020 Annual Report finds you all healthy and well. Without a doubt, 2020 has been challenging; a worldwide pandemic, social injustice unrest, an economic downturn, and so much more. We're living and working in a different world today, affecting us all in so many different ways.
When we left our campus offices on March 16, I never imagined we'd still be working from home these seven months later. We all miss the day-to-day human contact with colleagues that we simply took for granted. But despite the challenges, MSU is an organization with strength and resilience, and the staff of the MSU Innovation Center personify those virtues.
Collectively, we are Spartan strong. Our staff has been amazingly productive working in their new home offices; connecting with business and community partners, our faculty and student researchers, and each other. Developing and advancing key Innovation Center projects and programs, hardly missing a beat.
We've found new ways to be productive through technology. The relationships with our stakeholders, old and new, easily defeat the barriers of social distancing. We've made significant strides as we managed our way through this uncertain year.
A recent note from President Samuel L. Stanley Jr., M.D., said this:
"Even in the most challenging of times, like we find ourselves in today as we face the coronavirus and its numerous impacts on our institution, we must continue to plan for the future. I believe these changes will position us well to become more efficient and reach our full potential as we tackle our current challenges and prepare to seize new opportunities. Together we will identify and implement innovative and creative ways to achieve our mission as a world-class land-grant research university."
I couldn't agree more. This 2020 annual report highlights the importance of collaboration in our everyday work. By working together, staying focused and committed, we accomplish great things. I am proud to share a few stories of our success.
Stay well, and please do keep in touch – even if only virtually, for now.
Charles A. Hasemann, PhD
Assistant Vice President for Innovation and Economic Development